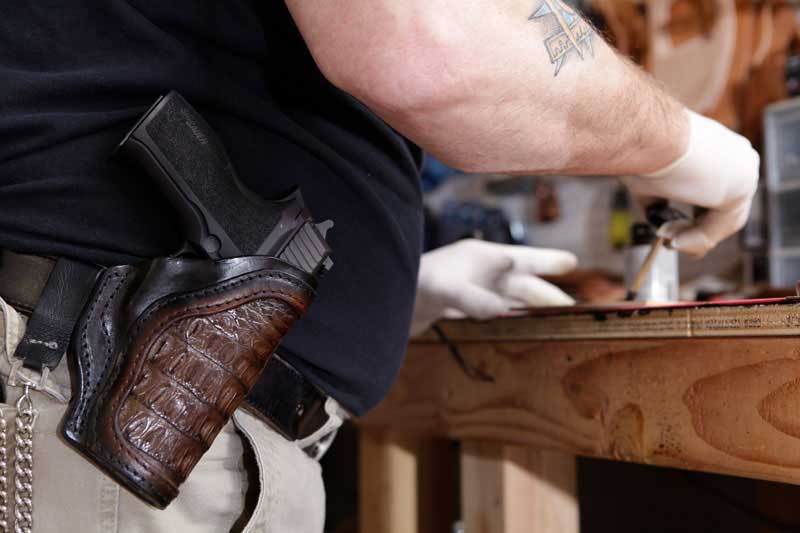 Holsters are used for storing pistols. Holsters were invented in the 1830s and were used for carrying and protecting a gun by both military and civilian personnel. Although its shapes and sizes have since changed, what remains the same is its use. One of these types of holsters that was used worldwide and known for its comfort and concealment is the 1911 Holster OWB. 
What is an OWB?
OWB stands for "Outside the Waist Band" which describes its primary use and what makes it different from the other types of holsters. It means that the gun pouch will be attached to the belt from the outside and is much more comfortable for the user as compared to the other traditional holsters that create a lot of pressure on the skin and can leave wearing marks on the skin of the user. 
If you plan to purchase a holster, consider its size and weight before making any decisions regarding the product you want to purchase. It is recommended to own at least one OWB holster for each gun. 1911 HolsterOWB is the most popular one among them. 
Why an OWB?
There are several reasons why gun wearers prefer an OWB. Some of them are mentioned below:
Comfortable wearing experience

Provide a wide range of designs and material possibilities

High safety value and easy to use while re-holstering
What is a 1911 gun?
The M1911or the Colt 1911 is a semi-automatic, recoil-operated pistol. It was designed by John Browning in 1911 and remodelled in 1924. It was manufactured by Colt Manufacturing Company and thus its name. It has many different versions of the proper M1911 model such as M45 MEU, M45A1, and Colt Commander Mk. IV series 70, 80, 90. It is used by both military personnel as well as civilians. It was declared the State Firearm of Utah in 2011 to honour its designer who was born and raised in the state. 
What makes 1911 a good carry-around gun?
1911 is a go-to option for gun users when it comes to buying a carry-around gun. It is because of these three reasons: 
They have good ergonomics, are lightweight, nearly perfect size, and have a decent caliber range that makes them a popular one in the county. 

It was produced by several companies which is why the public had a lot of choices. It made it even more popular among the people as now they could choose from a pile of options. 

It can be easily concealed but the user needs the proper belt for that. 
Why Kirkpatrick Leather? 
Kirk Patrick has been manufacturing quality leather holsters since the 1950s and is the distributor of some of the finest western gun belts in the market as of now. They have a great variety of products including holsters and concealment holsters, concealment accessories, leather holsters, hunting holsters, handmade leather belts, rifle leather, etc. they are one of the best producers of 1911 Holster OWB having developed one of the most loyal customer bases.